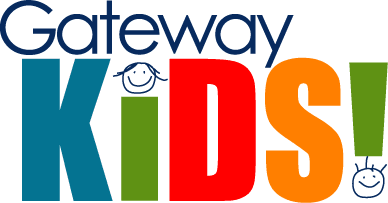 Babies - 6th Grade
Gateway Kids exists to introduce Jesus to children and help them grow in their faith and relationship with Him in a safe and loving environment. We want to partner with parents to help you take the lead in laying your kids' spiritual foundation, recognizing that you hold the primary place of influence.
Gateway Kids:
Provides a safe and loving environment where kids feel welcome. We want each child to know they are loved.
Introduces Jesus to each child who enters our building and helps them develop as worshippers and Christ followers.
Provides kids with Biblical truths and practical applications that they can apply to real life.
Encourages fun and meaningful activities that help kids in their spiritual journey - and get to know each other, their leaders, and God.
Supports families as each person grows spiritually and helps parents as they learn to disciple their children.
Helps kids learn to serve others and to share their faith with others.
---
New Family Registration
If you're joining us for the first time or just need to update your information, click below to register.
---
We host events throughout the year that are designed for your child and your family. They include Bible presentations, parent/child dedications, camp, Eggstravaganza, and more. Watch here for details.
---
Make a difference in kids' lives
​If you're an adult who loves kids, has the gift of teaching, or wants to make a difference in a child's week, Gateway Kids has a place for you - from check-in to leading music. Click below and complete the interest form to start the process of serving in Gateway Kids. We look forward to finding the best fit for you!
---
Got questions? Just ask!
Still have questions? Fill out the form below, and we'll get back to you with the answers.